Purple Mutt Hut is fully insured through Cliverton insurance.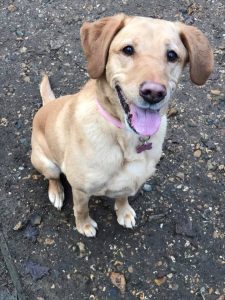 Purple Mutt Hut is fully licenced through Rushmoor Borough Council. Licence details are always on display as our insurance documents.
Please note: Purple Mutt Hut reserves the right to refuse to board an unneutered male. There may be an extra cleaning and separate walking charge for unspayed females who come into season whilst boarding with Purple Mutt Hut.
Bookings remain provisional until a deposit of 50% of the full booking fee has been received. This means that Purple Mutt Hut reserves the right to cancel a booking if the deposit has not been received by two months before the board date.
Once a booking has been confirmed and the deposit received there is a 48 hour 'cooling off' period in which the booking may be cancelled and the deposit refunded. However, after this period deposits become non-refundable.
Cancellations within one week of the confirmed board date will incur the full boarding fee (exceptions may be made in the case of bereavement, serious illness and so on on production of appropriate certification/evidence).
All dogs must be fully house trained, well socialised with other dogs and well-behaved.
Purple Mutt Hut insist on a pre-board visit in order to familiarise both owners, dogs and Purple Mutt Hut with the dog and the arrangements within the house. Please feel free to arrange a visit at a mutually convenient time. If you prefer that your dog has a trial 'sleepover' this can also be arranged for a small fee.
Dogs must be vaccinated against distemper, infectious canine hepatitis, parvo virus, Para influenza, Kennel Cough and leptospirosis. A certificate will be required to be seen.
Your dog must be fully insured and chipped.
Payment may be made by cash, cheque, online transfer or debit card via PayPal.
Balances must be paid by the end of the boarding period.
Purple Mutt Hut reserves the right to charge the customer for any vets fees incurred during the dog's stay & reimbursement will be required on collection of the dog.
Please ensure that your dog has a strong collar and appropriate lead.
Toys may be brought along for your dog's comfort, this will help them to settle more quickly.
Please supply enough food for the duration of your dog's stay together with their normal feeding bowl.
Dogs will be walked for at least one hour per day dependent upon the owner's requirements. We will attach our own 'dog holiday' tag for the duration of your dog's stay. If this is left on your dog, please return to Purple Mutt Hut at your earliest convenience.
If you are not happy for your dog to share with another dog, please advise this as soon as possible. Solo boards will may be available during peak season 25 June to 01 September due to the high level of demand.
Permission must be granted by the owner for the dog to be walked off lead. If permission is not granted, the dog will always be walked on lead for the safety and comfort of both the carer and the guest.
Please bring the dog's normal bedding, blanket or comforters.
Whilst we try to be flexible on collection and drop off times, we kindly ask owners to respect our right to privacy. Collections or drop-offs after 7pm on Sundays incur an extra £10 fee.
Bank Holidays and Christmas are charged at £20 extra per day to the normal board fee.
Please note: Whilst Purple Mutt Hut runs as a professional business, this is also our home. As a result any cleaning or damage to property charges will be passed to the dog owner.