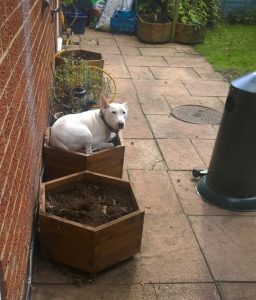 As of January 2018
One dog (provided the dog is able to share) £24 per 24 hour period
Two dogs from the same family £24 for the first dog and £12 for the second dog per 24 hour period
Solo Boarding (for a dog unable to share with other dogs) £28 per 24 hour period. Please note that solo boards may not be available during peak periods June, July, August, Christmas and New Year and Easter.
Doggy Day Care (limited availability) £20
Bank Holidays, Christmas, Boxing Day and New Year's Eve/Day are £20 per day extra
We may offer a limited dog walking service, dependent upon current guests and locality.
Please see our full terms and conditions for extra information. ALL bookings remain provisional until a deposit is received, Purple Mutt Hut reserves the right to cancel your booking if a deposit has not been received at least two months prior to the board.